Reserve Now
Or call: 800.427.4124

Newsletter Signup
Interested in receiving the Wine Train's email newsletters to stay up to date on all of the events, excitement, and offers?
Exhibiting Artists
Dennis Bertolucci
Francoise Bowlby
Rick DeBernardi
Laurine Fuqua
Johnny Garcia
Walt Hughes
Pamela June Jones
Billie MacDonald
Robin Mize
Daniel Parker
Marshall Raglan
Michael Schaer
Gregory Vasgerdsian
Connie Wright
Special Exhibition
The Iron Vineyard, by Kim Powers will be unveiled at the McKinstry Street Station as a new permanent art installation.
"Inspiration Station"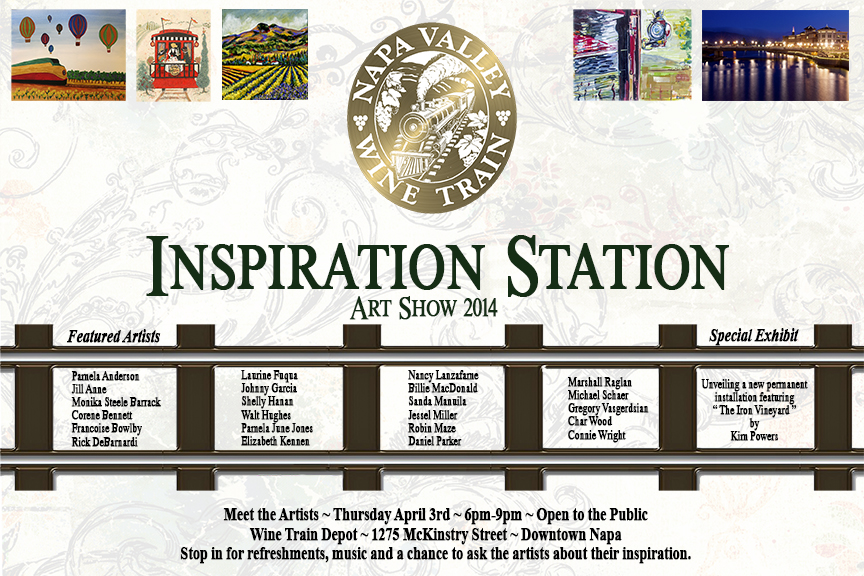 The Napa Valley Wine Train is eager to share our passion and build enthusiasm, while encouraging growth and creativity. This Core Value drove us to participate in "Arts in April" in two ways:
The "Inspiration Station" Art Show
A Special Exhibition, The Iron Vineyard by Wine Train employee, Kim Powers
The "Inspiration Station" Art Show was designed to encourage creativity in those inspired by the Wine Train. We sought pieces from local artists that reflected scenes, both real and imagined, of the landscapes from the Wine Train, on the Wine Train, or of the Wine Train. The turnout was astounding.
Sculpture, photography, painting, and more were submitted. Selected pieces will be on display in the Wine Train Station for the month of April.
An Artist Reception will be held as a grand opening for the show. Come to meet the artists and see the juried collection.
Best of Show will be announced and awarded with two tickets to ride the Napa Valley Wine Train.
Artist Reception
Thursday, April 3, 6 - 9 PM
McKinstry Street Station
1275 McKinstry Street
Napa, CA 94559



---
In the Wine Train's continued efforts to support the arts, employee Kim Powers was commissioned to create a permanent piece of art.
While documenting maintenance efforts on the Train, Kim found piles of discarded railroad spikes and felt it was a shame that such historic and beautiful pieces were not being put to better use. After seeking input from the Wine Train's Facebook fans, Kim proposed a sculpture combining both wine and train themes: a railroad spike vineyard.
Find out more about The Iron Vineyard HERE.
To further support the arts in Napa Valley, $1 will be donated to the Arts Council Napa Valley for every rider on board in the month of April, 2014.