Reserve Now
Or call: 800.427.4124

Lunch Train
Daily Schedule
| Time | Activity |
| --- | --- |
| 10:30 AM | Check-in |
| 10:35 AM | Welcome Speech |
| 11:00 AM | Board Train |
| 11:30 AM | Train Departs |
| 2:30 PM | Train Returns |
Any reserved seats not checked in 10 minutes prior to departure may be released for resale.
Lunch
The Vista Dome, Gourmet Express, and Silverado Car each have their own kitchen and specific menu. Our Award-winning Executive Chef, Kelly Macdonald, cooks each meal to order aboard the train. Even the sorbets are homemade! Special selections are offered to meet your specific dietary needs. Depending on your package selection, some wine may or may not be included with your meal.
Train Type
Basic Time Schedule
Lunch Train
Train Departs: 11:30am
Train Returns: 2:30pm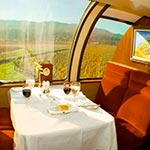 Package Includes:
Multiple Course Gourmet Meal, 3 Hour Antique Train Ride in the Vista Dome & 1 Welcome Glass of Sparkling Wine
Our 1952 Pullman domed rail car provides our most private dining experience. Your meal begins with a complimentary glass of California sparkling wine and continues with a four course lunch of your choice. The Vista Dome Car is an elevated observation style dining car expertly refurbished using Honduran Mahogany paneling and brass accents. Executive Chef Kelly Macdonald offers a unique menu for this dining option with all selections prepared in the kitchen located on the first floor of this car.
Price Per Person: $199.00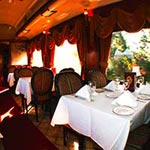 Package Includes:
Multiple Course Gourmet Meal, Welcome Taste of Wine & 3 Hour Antique Train Ride
These expertly refurbished 1915-1917 Pullman Cars create an atmosphere conducive to relaxation and enjoyment. Meals, crafted by Executive Chef Kelly Macdonald, are prepared in a specially fabricated kitchen car located immediately adjacent to each dining area. As with all our menu choices, the meals are freshly prepared on the train using environmentally responsible ingredients, humanely raised, hormone free meats and fresh, line-caught fish. One welcome taste of wine included.
Price Per-Person, $124-$139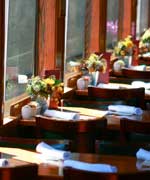 Package Includes:
Multiple Course Barbecue Meal, Welcome Taste of Wine & 3 Hour Antique Train Ride
Closed November-April
The Silverado Car was refurbished and put on line in 1998. Decorated in a rustic style reminiscent of a Hollywood Western, this rail car has quickly become a favorite with its casual atmosphere and sliding windows to capitalize on the wonderful moderate climate of the Napa Valley.The Silverado Car showcases the BBQ side of the Wine Train. Open weather permitting May-Oct
Price Per Person: $124.00