Reserve Now
Or call: 800.427.4124

About Our Team
Do you know what it takes to run a train? It takes a crew. But to run the Napa Valley Wine Train? It takes a team. Our team members are as diverse in their skill set as they are in their background. Our team ranges from janitors to accountants, chefs to train conductors, and servers to shop keepers. But we are not a team because of our differences, we are a team because of what we have in common, and what we have in common... is you. The mission of every member of our team is to provide you with a superb Napa Valley Wine Train experience. We hope that you will allow us to serve you.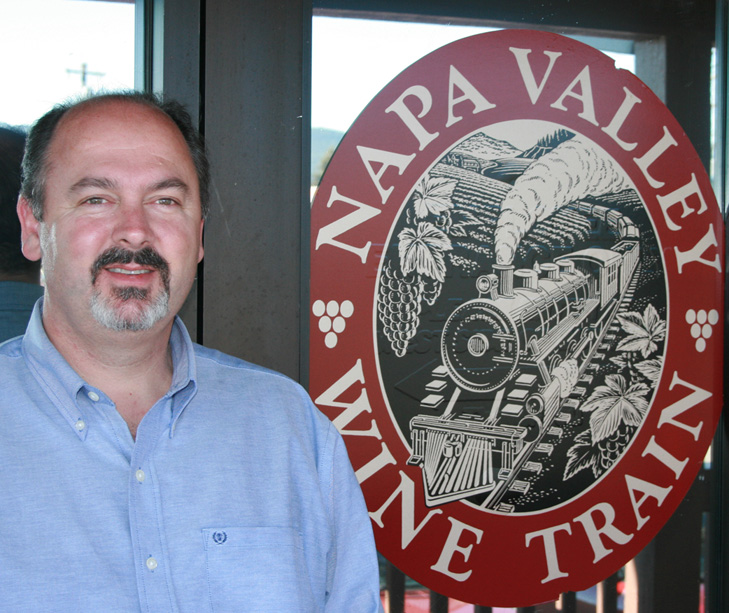 CEO Tony Giaccio
Tony Giaccio is only the fourth CEO in the 25-year-history of the iconic Napa Valley train. Giaccio is a third-generation Napan, and was one of the first employees of the Wine Train. He was hired as a part-time accounting clerk in 1989, just days before the first Train rolled out of the station. Since that time he has held the positions of Assistant Controller, Director of Personnel, Chief Financial Officer and Chief Operating Officer. He is a 22-year member of Rotary International North Napa and has served as treasurer, club secretary, and district secretary."Over the last 25-years of employment at the Napa Valley Wine Train, I have experienced first hand the struggles of a business in its infancy. I have helped develop new business products, been instrumental in railroad property development, rehabilitation of antique rail stock, and I have helped lay a course through times of boom and bust," Giaccio said.
"To me, sitting down and eating is a celebration of life and the experience should be savored as much as the food."
Cheryl Stotler - Wine Educator
Wine Educator Cheryl Stotler trained in the Professional Chef Program at the San Francisco Culinary Academy. She traveled enthusiastically and dutifully sampled food and wine all over the world before opening her own Bay Area restaurant in 2001. She sold the restaurant five years later and settled into life in Calistoga, working at a wine shop and then managing the tasting program at St. Helena's Tudal Winery before joining the Wine Train team.