Reserve Now
Or call: 800.427.4124
Email List
Receive news and promotions
Interactive Tour
Explore the train with the click of a mouse!

"Is Wine Included On the Wine Train?"
Find the answer to this and other questions on our FAQ page.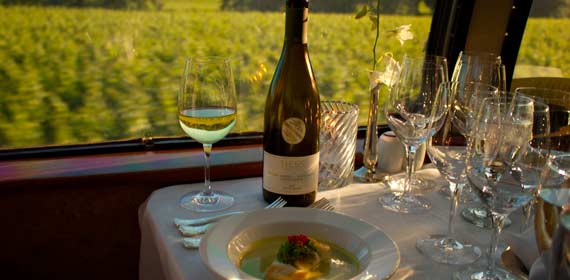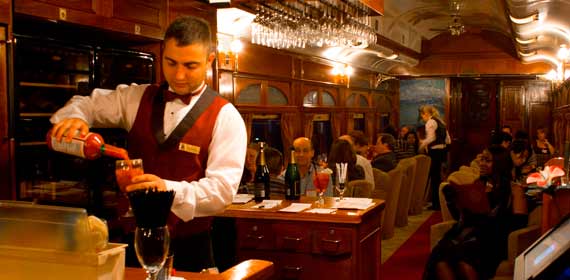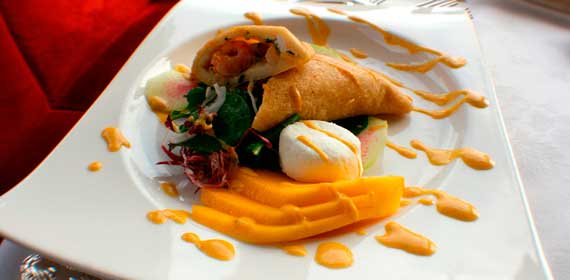 The Napa Valley Wine Train
Napas einzigartigstes Restaurant.
Der Napa Valley Weinzug ist eines der besten und einzigartigsten Restaurants Kaliforniens.
Das Restaurant befindet sich an Bord eines antiken Zuges, der auf einer 40 Kilometer langen Gleisstrecke im Herzen des Napa Valley verkehrt. Der Zug besteht aus zwei Lokomotiven, drei Bordküchen und verschiedenen, sehr seltenen Waggons aus dem frühen 20. Jahrhundert. Wir bieten unseren Gästen großartige Gerichte im Napa-Stil und fabelhafte, schwer zu findende Weine.
Suchen Sie sich etwas aus der hervorragenden saisonalen Speisekarte aus und genießen Sie ein Gericht, das in unseren speziell entwickelten Küchenwaggons zubereitet wurde. Der landesweit bekannte Küchenchef Kelly Macdonald verwendet in seinen köstlichen Gerichten frische, saisonale Zutaten, umweltfreundlich angebautes Obst und Gemüse, tierfreundlich produziertes Fleisch sowie geangelten oder verantwortungsvoll gezüchteten Fisch.
Erleben Sie ein Mittag- oder Abendessen in einem dieser Waggons:
Gourmet-Waggon – Kehren Sie zum Luxus und der Tradition des Speisens auf den Schienen zurück, wenn der Kellner Sie zu Ihrem Tisch im Gourmet-Speisewaggon geleitet. Die eine Hälfte Ihrer Reise verbringen Sie im eleganten Speisewaggon, die andere? Der samtene Komfort des Salonwaggons.
Vista Dome-Waggon – Privat, besonders und von der Masse abgehoben. Unter den antiken Kuppelfenstern bietet sich ein Ausblick von fast 180 Grad auf Napa Valley. Unsere "Erste Klasse".
Oder genießen Sie Weintouren, Weinverkostungen & Winzeressen.
Tägliche Weingut-Touren – wir bieten diese Napa-Weintouren an: Grgich Hills, Domaine Chandon und "The Ambassador", eine Tour zu zwei kleineren Weingütern auf dem Silverado Trail.
Unter den Veranstaltungen des Napa Valley Weinzugs finden sich lehrreiche Weinveranstaltungen, Mittagessen an Bord mit einem Winzer aus Napa, sowie Dinner-Krimi-Veranstaltungen.
Weinverkostungs-Bar an Bord – Wir servieren an Bord mehr als 100 Weine und führen mehr als 300 in unserem Weingeschäft. Der Weinchef Ryan Graham ist sehr darum bemüht, fantastische und limitierte kalifornische Weine auszuwählen und zu erwerben. Sollte Ihnen ein Besuch im Degustationsraum eines Weinguts nicht möglich sein, finden Sie diese Weine vielleicht in unserem Weingeschäft oder an unserer Weinverkostungs-Bar!