Reserve Now
Or call: 800.427.4124

Dinner Train Schedule
| | |
| --- | --- |
| 5:30pm | Check-in |
| 5:35pm | Welcome Speech |
| 6:00pm | Board Train |
| 6:30pm | Train Departs |
| 9:30pm | Train Returns |
Any reserved seats not checked in 10 minutes prior to departure may be released for resale.
Dinner
Summer Dinner Times Enjoy Sunset and Twilight.
Winter Dinner Times Depart and Arrive Under Cover of Darkness.
On our dinner train, guests may reserve seats on either the Vista Dome or Gourmet Express. Each railcar, with its own kitchen, unique menu, and atmosphere, might better be thought of as a separate restaurant, each with fabulous food.
During Summer and Spring, the long, warm, California twilight means that the vineyards of the Napa Valley are bathed in beautiful, golden sunlight for most of the journey. In the Fall and the Winter, when the train departs after sunset, you will experience the romance and adventure of an antique train traveling through the dark, Napa Valley night. Check sunset times. Depending on your package selection, some wine may or may not be included with your meal.
To maintain the romance of the Napa Valley night, all parties in the Vista Dome car and in Gourmet Express Package will enjoy private tables.
Train Type
Basic Time Schedule
Dinner Train
Train Departs: 6:30pm
Train Arrives: 9:30pm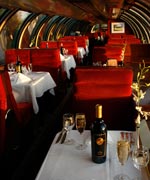 Package Includes:
Multiple Course Gourmet Meal, 3 Hour Antique Train Ride in the Vista Dome & 1 Welcome Glass of Sparkling Wine
Dine in elevated splendor.
Our 1952 Pullman domed rail car provides our most private dining experience. Your meal begins with a complimentary glass of California sparkling wine and continues with a multiple course dinner of your choice.
Price Per Person: $199.00
To Make a Reservation Please Call 800.427.4124
Reserve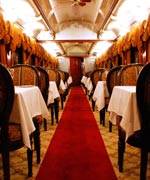 Package Includes:
Multiple Course Gourmet Meal, Welcome Taste of Wine & 3 Hour Antique Train Ride
These expertly refurbished 1915-1917 Pullman Cars create an atmosphere conducive to relaxation and enjoyment. Meals, designed by Chef Kelly Macdonald, are prepared in a specially fabricated kitchen car located immediately adjacent to each dining area. As with all our menu choices, the meals are freshly prepared on the train using environmentally responsible ingredients, humanely raised, hormone free meats and fresh, line caught fish.
Price Per Person: $124.00