Reserve Now
Or call: 800.427.4124


Wine Bar
Napa's Most Unique Wine Tasting Bar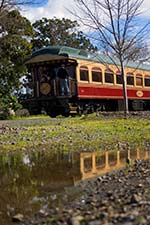 In the plethora of wine tasting bars that dot the charming countryside of Napa County, it is hard to find one more unique than the tasting bar on the Napa Valley Wine Train. Located in a historic Pullman rail car that is almost 100 years old, the Wine Train's wine bar reflects a time of luxurious passenger travel served with the exciting addition of today's sophisticated pastime: sipping wine, learning about wine, and enjoying the graciousness of life.
Nowhere else will you be able to view vineyards gently rolling past as you sip some of the world's most amazing vintages. Depending upon the time of year, you can watch the vineyards as they move slowly through their life cycle – from the barren vines being caned in wet vineyards to the pregnant purple fruit hanging pendulant under full canopies of green.
At any given time, the wine bar will sport 40 to 50 bottles of wine available to taste. Cost is $10 for four (4) tastes of wine. Flights can be suggested and selected by the wine educator staffing the bar, or you can pick and choose whatever flight you might fancy. Start with a sparkling, proceed to a Grenache blanc, find a delightful red (maybe a famous Napa Valley Cab?), and finish with a sticky, a port, or a late harvest treat. You decide; because, it is all about you.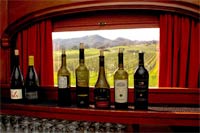 The wine tasting bar is only open to passengers of the Napa Valley Wine Train. Locals treat themselves to an afternoon on the Silverado Car and then wander down to the tasting bar for wine, conversation, and vineyard views. Favorite among visitors to the valley is the lunch options of the Gourmet Express or Vista Dome. Either way, stroll through this amazing vintage train with a wonderful lunch or dinner and stop at the wine bar for a chance to revisit American history, and renew your own personal connections with friends, family, and life.