Reserve Now
Or call: 800.427.4124

Or Call 800.427.4124
Train Schedule:
6/7/2013
8/2/2013
10/4/2013
Northbound
| Northbound | Time |
| --- | --- |
| Arrive Napa Depot | 4:20 pm |
| Depart Napa Depot | 5:00 pm |
| Arrive Yountville Depot | 5:30 pm |
| Depart Yountville Depot | 5:35 pm |
| Arrive St. Helena | 6:15 pm |
Southbound
| Southbound | Time |
| --- | --- |
| Depart St. Helena | 9:00 pm |
| Arrive Yountville Depot | 9:40 pm |
| Depart Yountville Depot | 9:45 pm |
| Arrive Napa Depot | 10:15 pm |
Any reserved seats not checked in 10 minutes prior to departure may be released for resale.
Cheers!
St. Helena Express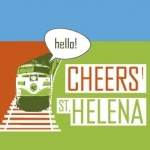 Park in Napa and let the Wine Train be your designated driver to the St. Helena CHEERS! community social. We are running a special train, with round trip transportation service between Napa, Yountville and St. Helena for this event.
Purchase a round trip transportation ticket for $35.
Wristbands for wine will be available for purchase once you disembark the train for $35.
CHEERS! is a community social event held in St. Helena. Entrance is free, shops are open, and Napa Valley Wines will be poured for the tasting. The goal of CHEERS! is to celebrate friendship, meet new friends, toast the beauty of St. Helena, and experience some of the magnificent food and wine the Napa Valley has to offer.
Pricing
$35 for round trip transportation on the Cheers! Train.

$35 for wine tasting pass (to be purchased in St. Helena from Cheers!)
Please be aware of the following:
This is not a dinner train. Dinner will not be served on board, however, food is available for purchase in St. Helena. There will also be a Dinner Train on every night when a CHEERS! Train runs.
We will be using a special railcar for this event, and the decoration of this railcar is quite different from the Wine Train.
The seats in this railcar face each other, and are fixed to the floor. If you have difficulty moving without assistance, please call us so that we can figure out how best to accomodate you.
There is limited space in this car, and will be an excellent opportunity to meet new people since most passengers will be sitting very near to someone they just met. In other words, while the CHEERS! Train is heaps of fun, we strongly suggest that guests looking for a romantic evening ride our Dinner Train.
Train Schedule:
6/7/2013 – 8/2/2013 –10/4/2013
Northbound
| Northbound | Time |
| --- | --- |
| Arrive Napa Depot | 4:20 pm |
| Depart Napa Depot | 5:00 pm |
| Arrive Yountville Depot | 5:30 pm |
| Depart Yountville Depot | 5:35 pm |
| Arrive St. Helena Depot | 6:15 pm |
| Southbound | Time |
| --- | --- |
| Depart St. Helena Depot | 9:00 pm |
| Arrive Yountville Depot | 9:40 pm |
| Depart Yountville Depot | 9:45 pm |
| Arrive Napa Depot | 10:15 pm |
Upcoming CHEERS! St. Helena bound trains