Reserve Now
Or call: 800.427.4124

Reservations by phone
800.427.4124
Lunch Train Schedule
Vintner's Lunch
| Time | Activity |
| --- | --- |
| 10:30 AM | Check-in |
| 10:35 AM | Welcome Seminar |
| 11:00 AM | Board Train |
| 11:30 AM | Train Departs |
| 2:30 PM | Train Returns |
Any reserved seats not checked in 10 minutes prior to departure may be released for resale.
Castello di Amorosa Vintner's Lunch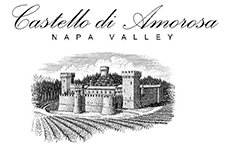 Friday, August 22
Spend a Friday afternoon immersing yourself in a complete Napa experience during the Wine Train's Vintner's Lunch featuring Castello di Amorosa. Drink exquisite wines, dine on a menu artfully paired to the afternoon's vino and chat with Napa Valley Wine Train's Executive Chef Kelly Macdonald and Castello di Amorosa Owner Dario Sattui while you gaze upon Napa's Vineyards from your elevated booth in the Wine Train's 1952 Vista Dome Car. The menu for your afternoon has been specially crafted for this event, and will not be seen again.
Due to the extreme popularity of vintner's lunches this event is seated with others. Parties of two may be seated with other parties of two.
Vintner's Lunch Includes: Multiple course gourmet meal, 3 glasses of pre-selected wine, and a ride in the Vista Dome Car.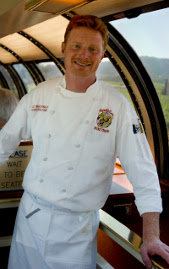 The Napa Valley Wine Train's Vista Dome Car and Chef Kelly Macdonald
About Castello di Amorosa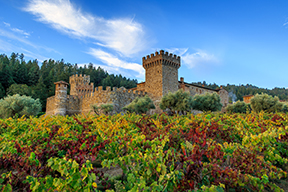 Rising above the hills in the Napa Valley is Castello di Amorosa, which translates to the "castle of love" in Italian. Castello di Amorosa is an authentically-styled, 13th century Tuscan castle winery replete with high walls and five defensive towers and over 30 acres of estate vineyards. It was built over a 15-year period by Dario Sattui, a fourth generation winemaker and owner of V. Sattui Winery in St. Helena, California.
Sattui says, "At first, I had no intention of starting another winery- I already had V.Sattui. My plan was only to replant historic vineyards there. However, throughout my adult life, I had been fascinated with Italian medieval architecture."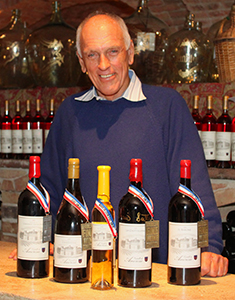 About Dario Sattui
Dario Sattui, great grandson of San Francisco California pioneer vintner, Vittorio Sattui, was born in San Francisco in 1941 and raised in San Francisco and Fairfax in Marin County. His great grandfather Vittorio Sattui, an Italian immigrant, founded V. Sattui Winery in 1885 in San Francisco. As Vittorio lived to be 94 years old, Dario got to know him and was fascinated by his stories and photos of the old winery.
Following graduating college, Sattui traveled around Europe for two years in an old VW van. It was during this period his fascination for medieval architecture began to take shape. Living out of his van, Sattui would visit medieval castles, monasteries, palaces, farmhouses and wineries studying their designs, taking photographs and completing detailed sketches and renderings.
In 1972, Sattui returned to the U.S. with the intent of re-establishing his great grandfather's original V. Sattui winery which had been dormant for more than 50 years. With $8,000 and a novel approach to the wine business he re-opened V. Sattui winery in St. Helena and turned a profit in the first year of operation.
Armed with his vault of medieval architectural renderings and another passionate dream, Sattui purchased a 171 acre vineyard property in Calistoga in 1993 and began construction of Castello di Amorosa Winery in 1994. The success of V.Sattui winery built the 121,000 square foot, 13th authentic Tuscan castle and winery.