Reserve Now
Or call: 800.427.4124

Price Per-Person, $174.00
Make a Reservation
Or Call
(800) 427.4124
---
Interested in other
Vintner's Lunch
Events?
Lunch Train Schedule
Vintner's Lunch
| Time | Activity |
| --- | --- |
| 10:30 AM | Check-in |
| 10:35 AM | Welcome Seminar |
| 11:00 AM | Board Train |
| 11:30 AM | Train Departs |
| 2:30 PM | Train Returns |
Any reserved seats not checked in 10 minutes prior to departure may be released for resale.
The Count at Buena Vista

Friday, July 5
Spend a Friday afternoon immersing yourself in a complete Napa experience during the Wine Train's Vintner's Lunch featuring Buena Vista Winery. Drink exquisite wines, dine on a menu artfully paired to the afternoon's vino and chat with Napa Valley Wine Train's Executive Chef Kelly Macdonald and the Count at Buena Vista while you gaze upon Napa's Vineyards from your elevated booth in the Wine Train's 1952 Vista Dome Car. The menu for your afternoon has been specially crafted for this event, and will not be seen again.
Due to the extreme popularity of vintner's lunches this event is seated with others. Parties of two may be seated with other parties of two.
Vintner's Lunch Includes: Multiple course gourmet meal, 3 glasses of pre-selected wine, and a ride in the Vista Dome Car.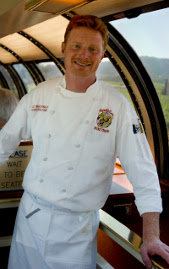 The Napa Valley Wine Train's Vista Dome Car and Chef Kelly Macdonald
About Buena Vista Winery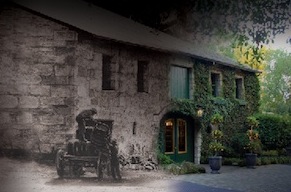 Before there were vineyards in every valley north of San Francisco, before Napa and Sonoma were household names, before there was a California wine world at all, there was Buena Vista. Founded in 1857, Buena Vista is California's first premium winery, and its history is as colorful as it is proud. Today, the legend is being re-born under the vision of Jean-Charles Boisset. Just outside the town of Sonoma, the original winery is now a California Historic Landmark, and home to our Winery, Tasting Room, and Visitor's Center. Buena Vista. Our future is our past… our vivacious, colorful, and pioneering past!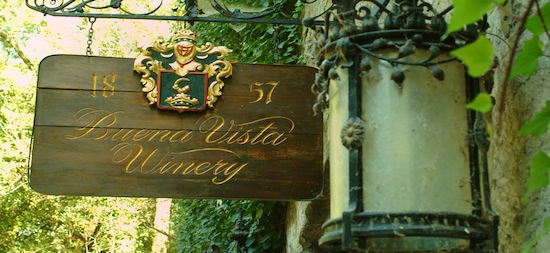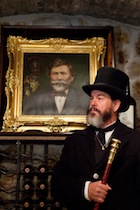 About The count at Buena Vista
I, the Count of Buena Vista, am thrilled to make an appearance upon the Napa Valley Wine Train….having been a student of the Iron Horse and the Metal Rail for over 150 years! I made extensive use of this new technology during my 1861 trip to Europe; I always preferred the civilized and comfortable travel afforded by this remarkable invention, and would dread the return to horse and carriage. During my European adventure I collected 100,000 European vine cuttings of 353 different varietals; these vines were planted at my Buena Vista Winery in Sonoma---- the first showcase of modern 19th Viniculture techniques in California. This modern winery had been my dream ever since my immigration to America in 1840, seeking opportunity and freedom. After first settling in Wisconsin, and building a town, I came to California in 1849 after gold was discovered. When I found the Sonoma Valley I realized my search for the ideal wine valley was at an end, as Sonoma possesses the perfect combination of volcanic soil and maritime fog influence to create what I called "Purple Gold." Buena Vista is now regaining its rightful position as the most important Historic winery in California under the leadership of our new owner: Jean Charles Boisset; a man so extraordinary that he brought me back to life! Jean-Charles and I thank the Wine Train for this singular honor, and also appreciate the many fine guests the Wine Train has brought to our sister winery--- Raymond in the heart of the Napa Valley.