The Napa Valley Wine Train is receives many questions, so please see below for a FAQ.
If you have any additional questions, please feel free to contact our Reservations Department and we would be happy to assist you. 800-427-4124
Why would I want to ride the Wine Train for Dinner if I can't see anything?
When you ride the Napa Valley Wine Train for dinner, part of your trip will be dark. Depending on the time of year however, a significant portion of your trip may take place during "Magic Hour," the hour just before sunset. At this time of day the entire valley glows. Mountains glow yellow, clouds glow pink, and young grape leaves glow a golden green color. It is during this time that the Napa Valley is at its most beautiful, and most romantic.
And while the beauty of the scenery gradually fades after sunset, darkness has a way of making the train even more romantic and intimate.
While it will be dark for the entire journey in December, the Napa Valley Wine Train is a fun way to see some of the Valley's holiday illumination.
If you plan to ride the Napa Valley Wine Train to see and experience as much of the Napa Valley as possible, come for lunch, and consider reserving our Ambassador Winery Tour. If you are hoping for a more private experience, or want to dress up, you might have a better time riding the Napa Valley Wine Train for dinner.
Can I bring an animal on board the train?
Per state law, animals are not allowed on board the Napa Valley Wine Train, with the exception of service animals.  If you have a service animal, please see the next question.
Can I bring my service animal onto the Napa Valley Wine Train?
The Napa Valley Wine Train occasionally accommodates service animals on the Train. We would appreciate it if you could have the service animal's certificate of service available for our conductor's inspection prior to boarding.
While we do not discourage guests with service animals from coming on the train, guests must be aware that there are several factors which guests must consider before deciding to ride with their service animal.
The motion of the train, and the unnatural, high pitched metallic sounds that the Train makes as it goes over joints in the tracks may make some animals very uncomfortable.
The entire Train is only about 8 feet across and a walkway runs through it.  This means that service animals will always be within about 3 feet of a frequently used walkway.  Animals not accustomed to heavy and frequent foot traffic may be very uncomfortable.  Service animals must not sit or lay down in a walkway as this presents a hazard to other guests and the animal.
Napa Valley Wine Train staff have been trained not to touch the service animal, but other customers may not understand the role of a service animal and may want to touch the service animal.
The owner of the service animal must provide all of the care that the service animal requires.  Any food or water which the animal requires, and appropriate containers for serving food and water to the animal, should be provided by the owner.  Sanitary toilet arrangements must also be made by the owner of the animal, and, in the interest of the health and safety of our guests, the staff of the train will not handle or dispose of animal droppings or urine for the owner.
The Napa Valley Wine Train urges all owners of service animals to carefully consider the points listed above before deciding to bring your service animal aboard the Napa Valley Wine Train.
Is the Napa Valley Wine Train wheelchair accessible?
Yes, the Napa Valley Wine Train is wheelchair accessible, but Napa Valley Wine Train is an antique train, and as such there are some unique challenges that persons with mobility preferences should be aware of.
It is a few hundred feet from the Handicapped Parking spaces to the Front Desk.
Boarding the train requires passengers to climb some rather steep stairs (photo of the stairs). The tallest of these steps is 9.5 inches tall. The steps are slightly recessed, which some guests find challenging. There are both right and left handrails. Passengers unable to climb stairs can board the train via a manual lift that we have (photo of manual lift #1)(photo of manual lift #2).
If you require a wheelchair, we strongly recommend that you use our transfer chair (photo of our transfer chair), since this is the only wheelchair that we are confident will fit in the train. We cannot guarantee that personal wheelchairs will fit on board.
The Gourmet Car and Silverado Car are both accessible with our transfer chair.
There is no way to access the Vista Dome car without climbing stairs. Inside the Vista Dome car there are seven steps, each 8 inches tall. There is a handrail on the right side only.
Moving in a wheelchair while the train is in motion is difficult, and guests who require a wheelchair should move only when advised to do so by our staff.
If a guest with a mobility preference wishes to move about the train, they must be assisted by a member of their party.
At this time we cannot accommodate guests with mobility preferences on any of our tours.
The restrooms on board the train are not wheelchair accessible. You will need to be able to get out of your chair in order to use the restrooms.
Despite the unique challenges presented by our historic train, many guests with mobility preferences ride the Napa Valley Wine Train. If you have specific needs or concerns, please contact us by phone at +1-800-427-4124
What are your Terms and Conditions?
View our Terms and Conditions.
Do you really have a Kitchen Car and can we see it?
At the Napa Valley Wine Train, we pride ourselves on the quality of our food. Executive Chef Donald Young buys only fresh, local produce, line caught fish, and humanely raised meats. All of our entrees are prepared on board, and guests are more than welcome to observe our kitchen car in action.
What does "Traditional Rail Seating" mean?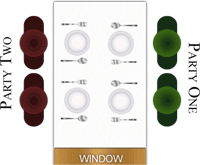 In the spirit of traditional rail seating, you may share a table with another party on our Winery Tours, special events, and select packages during our lunch trains. Parties of four will always be seated at the same table. A limited number of private upgrades are available in the Gourmet Express Package, and all tables are private in the Vista Dome.
To preserve the romance of the Napa Valley night, all parties enjoy private tables on our dinner trains.
Can we bring on our own wine?
Yes, we do recognize that many people have a special wines that they want to have for their 'special occasion.' The Napa Valley Wine Train charges a corkage fee of $15.00 per 750ml bottle and $30 for a Magnum sized bottle. If you bring one bottle of wine on board and buy a bottle on board, we'll waive the corkage for the bottle brought on.
At the Napa Valley Wine Train, we have a Wine Shop with almost 500 kinds of wine available for purchase and we have an extensive onboard wine list with approximately 40 wines.
How long has the Napa Valley Wine Train been operating?
The Napa Valley Wine Train began gourmet dining service September 16, 1989. The railroad itself, however, was built and operated by Samuel Brannan in 1864 as a tourist railroad to take visiting San Franciscans as they arrived by ferry in south Napa to his resort town Calistoga.
2014 marked the 25th Anniversary for the Napa Valley Wine Train and the 150th Anniversary for the rail corridor.
Are the meals made by the Napa Valley Wine Train?
The Silverado, Gourmet Express, and Vista Dome cars each have their own kitchen and specific menu. Award-winning Executive Chef Donald Young and his culinary staff do not cook each meal until it is ordered. Some of the side dishes and desserts are prepared in the Napa Valley Wine Train's Culinary Arts Center and 'finish' cooked or baked on board during the three hour excursions. Even the sorbets are made by us!
What if I have a food allergy?
Everyday, we serve a variety of guests with different dietary preferences and food allergies. Like any good restaurant, all of our menu choices are freshly prepared to order. In our case, they are all prepared on board the Napa Valley Wine Train. With advance notice, we will be better equipped to handle special menu requests. When making your reservation, please alert your booking agent of your needs. The agent will submit your information to our kitchen staff and to our on board manager. It is also necessary to remind your server which member of your party has the allergy. Rest assured, we handle hundreds of allergies weekly and with ease. We look forward to serving you and your family soon.
Do you have children's rates?
Children's rates are only available for select packages. Please call +1-800-427-4124 if your party includes children age 12 or under in order to secure the children's rate.
Do you allow children aboard the Napa Valley Wine Train?
Children are always welcome and some packages have special rates. Caution is recommended to parents of toddlers who might have a difficult time 'relaxing' for three hours. Due to the general movement of the train or the rare potential for a sudden stop, children cannot walk about the cars unattended. Diaper changing is not permitted in the railcars due to food service and the bathrooms are somewhat small. McKinstry Street Station has a 'diaper changing station' in the Restroom. Due to safety issues, strollers and carriers are not permitted on board, booster seats are available. Please check with your Reservation Agent for special handling for infants. +1-800-427-4124
Is there a children's menu?
We do not offer a children's menu on board the train, however, we can adapt many of our menu items to suit your child's tastes.
Who owns the Napa Valley Wine Train?
The Napa Valley Wine Train is owned by Noble House Hotels & Resorts, Ltd. – a collection of luxury hotels and resorts – and  Brooks Street, a California-based real estate development and investment company.
What do we wear?
We encourage our guests to dress for the occasion, though we do not have an enforced dress code. Dinner can be more dressy with some guests preferring 'cocktail party' attire. Jackets are suggested on cool nights, but not required. It is always a good idea to bring an extra layer to ensure that you are warm enough on board.
Is smoking allowed?
Due to state regulations, smoking is not permitted in the Station, on board the Napa Valley Wine Train or on the outside observation deck of the train.
How many railcars are there?
The Napa Valley Wine Train consists of ten railcars and two engines on point:
Lounge Cars (3)
Deli Car (1)
Gourmet Express Dining Cars (2)
Silverado Car Al-Fresco Style Dining(1)
Vista Dome Dining Car (1)
Grappa Power Car (1)
Chef de Cuisine Kitchen Car with Glass Observation Corridor (1)
Find out more about our antique train and railcars here.
How long does each trip last?
Lunch and Dinner trains typically take three hours. The Valley First Winery Tour and the Grgich Hills Winery Tour return with the Lunch Train at 2:30.  The Ambassador Winery Tour and the Castle Winery Tour generally return to the station between 4:00pm and 4:15pm.
What payment methods do you honor?
We can process AMEX, MasterCard, Visa, Diner's Club, Carte Blanche, Discover, Novus, and JCB over the phone. Our online reservations system is capable of processing either Visa or Master Card. Gift Certificate numbers must be provided at point of reservation as payment method and must be presented upon check-in to secure boarding passes.
Are there bathrooms on the Napa Valley Wine Train?
Most of the Napa Valley Wine Train's rail cars is equipped with a restroom.
Do you have to drink wine on the Napa Valley Wine Train?
No, you do not have to drink wine on board the Napa Valley Wine Train.  For our guests who do not want to drink wine, we also offer juice, soda, non-alcoholic wines, beers, cocktails and brandies.
Is wine included?
One taste of welcome wine is included with every Napa Valley Wine Train package for guests who are over the age of 21. Wines are included during the monthly Moonlight Escape Dinners and select special events.
Cocktails, beers and wine can be purchased on board throughout your journey. More than 40 wines are on the wine list and wine flights.
Is a tip included in the price?
Optional tipping is solely based upon guests' experience on board. Tipping should be based on the meal price of $55.00 and beverages purchased while on board the train.
What does my package pricing include?
Prices posted and charged for all food and beverage items served on the Napa Valley Wine Train include sales tax, which will be paid to the California State Board of Equalization, and a 12% service charge which is delegated towards the funding of higher wages and medical insurance for employees.
Also included with your specific package:
Silverado Car: Train fare, a multiple course gourmet meal, welcome taste of private label Napa Valley Wine Train wine, and on board coffee and tea.
Gourmet Express: Train fare, a multiple course gourmet meal, welcome taste of private label Napa Valley Wine Train wine, and on board coffee and tea.
Vista Dome: Train fare, a multiple course gourmet meal, Vista Dome upgrade, (1) glass of sparkling wine, and on board coffee and tea.
Winery Tours: Train fare, a multiple course gourmet meal, welcome taste of private label Napa Valley Wine Train wine, on board coffee and tea, and a tour and tasting at the specified winery or wineries.
Special Events: Train fare, a multiple course gourmet meal, on board coffee and tea, and event programs and features.
Can we get off the Napa Valley Wine Train?
Currently passengers can only disembark as a part of one of our winery tours or special events.
Does the Napa Valley Wine Train stop at wineries?
Currently the Napa Valley Wine Train offers four lunch Winery Tour packages which include winery tours and one dinner package. For lunch tours, passengers can choose the Castle Winery Tour, the Grgich Hills Winery Tour, the Ambassador Winery Tour, or the Valley First Winery Tour.  For a dinner tour, passengers are offered the Evening Winery Tour featuring Grgich Hills Estate (Saturdays only).
What can I expect once I arrive at the Station?
Your journey will begin in the Napa Valley Wine Train Station. After checking in at the Reception Desk, feel free to explore the Station. Visit our Wine Shop and discuss some of our rare, boutique wines with our knowledgeable wine educators. See the story of our founding on the TV monitors or just sit and relax with wine, coffee, or friends. Thirty minutes before boarding the lunch train, our wine specialists will give an introductory lecture on the Napa Valley and the Napa Valley Wine Train. The arrival of the Napa Valley Wine Train will be announced one half hour before the scheduled departure. Please wait for your seating section to be called. It takes quite a while to board an antique train, so don't feel the need to rush. We won't leave without you.
What time are your reservation agents available by phone?
Our Reservations Department is available from 7:00AM- 7:00PM and can be reached by calling 800-427-4124