Reserve Now
Or call: 800.427.4124
Interactive Tour
Explore the train with the click of a mouse!

Special Events
Pink Moon
April 4th
,
6:30 PM
Moonlight Escape
Pink Moon
April 4th
Per-person: $229
Escape from the pressures of everyday life in the moonlit vineyards of Napa Valley. The only thing more romantic than a dinner for two in a private booth in the Wine Train's 1952 glass topped Vista Dome, is making the journey under the light of the full moon. Enjoy panoramic views of the silver painted vineyards through the Vista Dome's curved glass windows as you traverse the dimly lit Napa Valley. Experience the intimate adventure of an antique train traveling through the night at a reserved table set for two. This special event offers a private table for 16 parties with reservations. http://winetrain.com/events/moonlight-escape http://winetrain.com/events/moonlight-escape
Check-in at 5:30 PM
Departs at 6:30 PM
Returns at 9:30 PM
Meal: Multiple Course (Menu)
Wine: 1 Sparkling, 2 Glasses Private Label

Murder on the Wine Train Express
April 17th
,
6:30 PM
Murder Mystery
Murder on the Wine Train Express
April 17th
Per-person: $175
The Napa Valley Wine Train is pleased to announce a Murder Mystery play centering on the clandestine world of the gumshoe. Come prepared to mix and mingle, dress the part, or just get down to business and solve the murder. The year is 1915. San Francisco has been reborn from the ashes of the Great Earthquake and Fire of 1906. Under the vision of people such as D.W. Griffith, Mack Sennett and Charlie Chaplin, the silent film industry has taken off and revitalized entertainment. With the advent of a new railway, wine makers have discovered California's Sonoma and Napa Valley Wine Regions and are building an industry they believe will someday rival the wines of France. http://winetrain.com/events/murder-mystery
Check-in at 5:30 PM
Departs at 6:30 PM
Returns at 9:30 PM
"Is Wine Included On the Wine Train?"
Find the answer to this and other questions on our FAQ page.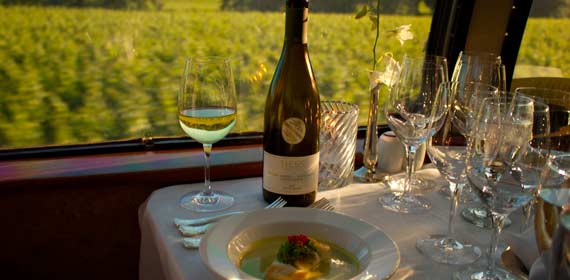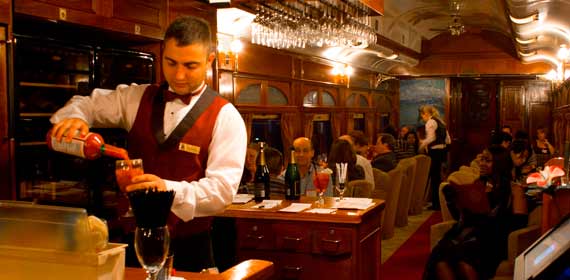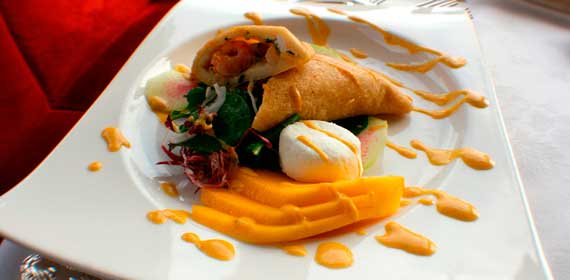 The Napa Valley Wine Train
Le restaurant d'exception de la Napa Valley.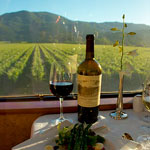 Le Train du vin de la Napa Valley est l'un des meilleurs et des plus originaux restaurants californiens.
Notre restaurant se trouve à bord d'un train ancien qui parcourt 25 miles de chemin de fer au cœur de la Napa Valley. Le train se compose de deux locomotives, de trois cuisines de bord et d'une collection très rare de wagons du début du XXe siècle. Nous offrons à nos clients une nourriture régionale et des vins fabuleux et rares.
Vous pourrez choisir dans notre excellent menu de saison et apprécier des mets préparés dans les cuisines conçues spécialement pour notre train. Pour préparer ses excellents plats, notre chef de renommée mondiale, Kelly MacDonald, utilise des ingrédients frais de saison, des produits agricoles respectant l'environnement, des viandes élevées sans cruauté et des poissons pêchés ou élevés avec respect.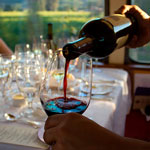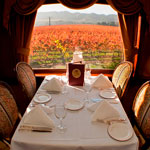 Venez souper ou dîner dans l'un des wagons suivants :
La voiture Gourmet – Retrouvez le luxe et la tradition des soupers à la voiture-restaurant où le steward vous conduit à votre table dans la voiture-restaurant Gourmet. La moitié de votre voyage se passera dans une voiture-restaurant élégante. Et l'autre? Dans le confortable velours de la voiture-bar.
La voiture Vista Dome – Intime, spéciale et au-dessus de tout. Une vue à presque 180 ° de toute la Napa Valley sous un dôme exceptionnel. Notre « première classe ».

Vous pouvez aussi choisir nos circuits viticoles, nos dégustations ou nos Soupers du producteur.
Circuits viticoles quotidiens – nous offrons les circuits suivants : Grgich Hills, Castello Di Amorosa et «The Ambassador», une visite de deux petites propriétés sur le Silverado Trail.
Le circuit du Train du vin de la Napa Valley comprend des événements éducatifs concernant le vin, un dîner à bord avec un négociant en vin de la vallée et un souper spectacle « Meurtre et mystère.