Reserve Now
Or call: 800.427.4124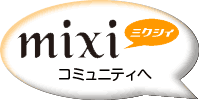 Special Events
Murder on the Wine Train Express
November 14th
,
6:30 PM
Murder Mystery
Murder on the Wine Train Express
November 14th
Per-person: $170
Daring and Dastardly Detectives deliberate on death and . . . book rights? A number of the world's greatest detectives are gathering on the Napa Valley Wine Train to see who will receive the royalties to the recently published best seller, called "The Detectives' Club." Under the terms of the contract, any of the eight detectives who are alive at midnight will share in the royalties - $5,000,000. Those who are no longer among the living will receive nothing for their estate. Join them and see if you can solve the murder, or murders, of The Detectives' Club. http://winetrain.com/events/murder-mystery
Check-in at 5:30 PM
Departs at 6:30 PM
Returns at 9:30 PM
"Is Wine Included On the Wine Train?"
Find the answer to this and other questions on our FAQ page.
ナパバレー・ワイントレイン
What's New
Napa Valley Wine Train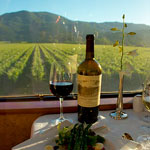 ナパバレーは、世界一流のワイン産地としてはもちろん、カリフォルニア州でもっとも美しい地域の一つにも数えられています。ナパバレーを訪れる人の数は年間470万人にも上ります。ここは、カリフォルニア州でディズニーランドに次ぐ人気の観光地なのです。
ワイントレインは、ナパバレーを時速30キロでのんびり巡りながらランチやディナーを楽しめる人気の列車で、このワインカントリーの自然いっぱいの風景を存分に味わうことができます。歴史の古いナパから趣のある街のセントヘレナまで、ゆっくり3時間かけて往復する、ぜいたくな列車の旅です。列車は1915~1917年製の車両を完全復元したレトロ調の車両と、1947年製のビスタ・ドーム・カーから構成されています。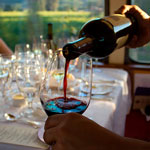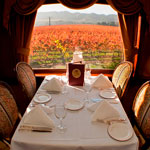 お食事は、新鮮な食材だけを用いてご用意したカリフォルニアスタイルのグルメ料理です。厨房車のガラスの仕切りを通して、シェフたちが料理に腕を振るう様子も見ることができます。
ワイントレインの充実したワインリストには、ナパバレー全域で生産される多様な種類のワインが揃っています。テイスティングバーでは、各種のワインを試飲して、ナパバレー産ワインのおおまかな全体像をつかむことができます。
ワイントレインは、車中で充実したくつろぎのひと時を体験できる、魅力的な観光アトラクションの1つです。