Reserve Now
Or call: 800.427.4124
Email List
Receive news and promotions
Interactive Tour
Explore the train with the click of a mouse!

"Is Wine Included On the Wine Train?"
Find the answer to this and other questions on our FAQ page.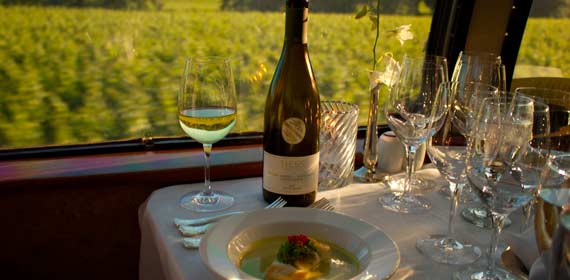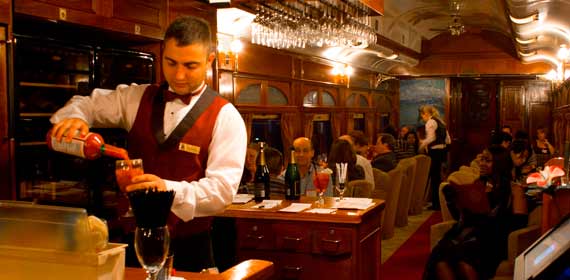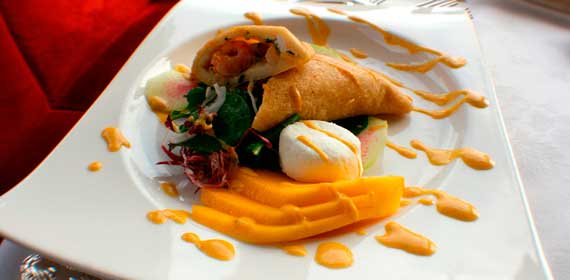 The Napa Valley Wine Train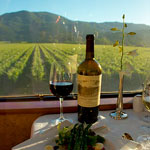 O restaurante mais "unico de Napa.
Somos um restaurante a bordo de um antigo trem que atravessa o coração do Vale de Napa num percurso de 25 milhas. O trem é composto de duas locomotivas, três cozinhas de bordo e um conjunto único de vagões do início do século XX. Oferecemos aos nossos convidados pratos ao estilo de Napa e fabulosos vinhos difíceis de ser encontrados.
Escolha a partir de um excelente menu de temporada e desfrute de um dos pratos preparados nos nossos vagões especialmente projetados para cozinha. Nosso Chef nacionalmente reconhecido, Kelly Macdonald, utiliza ingredientes frescos da estação, verduras da temporada, carne de animais criados sem hormônios e deliciosos peixes pescados ou criados cativeiros nos seus deliciosos pratos.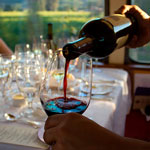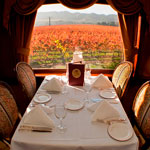 Escolha um dos vagões seguintes para o seu almoço ou jantar:
Vagão Gourmet - Relembre o luxo e a tradição dos jantares em trens, quando o comissário lhe dirigirá à sua mesa no vagão Gourmet Dining. Você passará metade da viagem num elegante vagão para refeições, e a outra metade? Será no conforto do vagão do lounge.
Vagão Vista Dome - Íntimo, especial e aparte do resto da multidão. Uma vista de quase 180 graus do Vale de Napa através das antigas e exclusivas janelas de cúpula. Nossa "Primeira Classe."
Vagão Silverado - Relaxe e aproveite o churrasco nesta área aberta, no estilo dos vagões do velho oeste. Uma experiência maravilhosa para aqueles que querem sentir o vento batendo no rosto!
Ou aproveite passeios de vinho, provas de vinho e jantares de vinicultores.
Passeios diários a adegas - Associámo-nos a produtores de vinho locais para oferecer mais de 5 passeios privados diferentes. Todos os passeios de Adegas incluem uma refeição gourmet a bordo do Wine Train.
Os eventos do Napa Valley Wine Train incluem eventos educacionais sobre o vinho, ou almoços a bordo com vinicultores de Napa.
Bar de Degustação de Vinhos a bordo - Servimos mais de 100 vinhos a bordo e temos mais de 300 em nossa Loja de Vinhos. Fazemos o possível para escolher e adquirir fantásticos vinhos de produção limitada da Califórnia. Caso não consiga entrar numa sala de degustação de vinhos, você provávelmente encontrará os vinhos deles na nossa Loja de Vinhos ou no nosso Bar de Degustação de Vinhos!