Reserve Now
Or call: 800.427.4124

Pricing Starts at
$428 Per Couple
Napa River Inn Phone Number
707-251-8500
Day 1
8:10AM
Arrive at the San Francisco Ferry building.
9:00AM
Arrive in Vallejo
10:00AM
Arrival at the Napa Valley Wine Train
10:35am-2:30pm
Start Your Journey on the Napa Valley Wine Train
2:30pm
Ask the Wine Train staff to call for the bellman from the Napa River Inn.
I Left My Car in San Francisco
Explore two of Napa's most historic features: the vintage rail cars of the Wine Train and The Napa River Inn and Historic Napa Mill, a world-class urban destination in the heart of California's beautiful wine country. Leave San Francisco's waterfront for a downtown Napa adventure and leave your car keys, and everyday life, behind.
Note: A two night minimum might apply to this package. Please contact the Napa River Inn for complete details.
Call the Napa River Inn at 707-251-8500
One Night Package For Two Includes: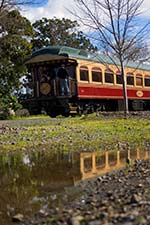 Round-trip transportation from San Francisco to Napa via the Ferry and shuttle
Gourmet lunch on the Napa Valley Wine Train
Luxurious accommodations at the Napa River Inn
Gourmet In-Room Breakfast from Sweetie Pie's Bakery
Early check-in/late check-out privileges (based on availability)
Luggage transfer
Two "Downtown Wine Tasting Cards" for tastings at 12 Napa winery tasting rooms
Complimentary Bicycle Rentals
Rates Starting From $428 (retail value: $673)
For The Two Night Package, Add:
An additional night at the Napa River Inn
A second gourmet In-Room Breakfast from Sweetie Pies Bakery
20% off Spa services at Napa River Inn's day spa, The Spa at Napa River Inn
Two for one cover charge at Silo's Jazz Club (most shows on weekends)
Rates Starting From $613 (retail value: $1,199)
These 'starting from' rates are valid most days Sunday through Tuesday. Weekend pricing is available. Gratuities and Hotel Taxes are not included in the package price. Rates without transportation are also available on the Napa River Inn website.
Embark (from the Embarcadero) on a Wine Country journey, one hour north of San Francisco that allows one to step, literally, into a slower pace – a walking stride. No car is necessary for this trip to California's breathtaking wine region, where guests may relax in the luxurious accommodations of Napa River Inn and explore the surrounding valley on the Napa Valley Wine Train.

Wine train:
An inimitable California experience, the Napa Valley Wine Train is located in the breathtaking Napa wine region. Pure Americana, each rail car is luxuriously restored to bring back the era of graceful travel while today's finest culinary techniques tantalize the traveler's taste buds. The lunch journey is just three hours and thirty-six miles through some of the world's most famous vineyards.

The Napa River Inn:
The Historic Napa Mill offers luxurious lodging options at the Napa River Inn with exceptional service, four award-winning restaurants, premium wine tasting, on-site shopping, live jazz music at SILO's Jazz Club, and rejuvenating spa treatments at The Spa at Napa River Inn. The Napa River Inn is located at the Historic Napa Mill at 500 Main Street, Napa, California 94559.