Reserve Now
Or call: 800.427.4124

Package Prices
This incredible experience starts at $529 per night, plus tax. This package may be subject to availability and might not be available on specific days, like holidays. Please call the River Terrace Inn for specific availability information and pricing.
River, Rails and Wine Trails Vacation Package
This leisurely overnight Napa vacation package is one of the best deals in Napa: a Wine Train Gourmet lunch, two days at the River Terrace Inn, and a day of Winery Tours by Beau Tours Limo.
This vacation package is designed to help the first-timer become a seasoned Napa traveler, or to be a relaxed, car-free, mini-vacation for Wine Country experts.
Note: A two night minimum applies to this package. Please contact the River Terrace Inn for complete details.
Call the River Terrace Inn for Reservations 707-320-9000
Day 1
Check into the River Terrace Inn featuring serene grounds overlooking the Napa River. The River Terrace Inn prides itself on its "Napa Valley feel" and the décor is a blend of up-scale elegance and California contemporary. It's restaurant, Cuvee Napa's urban farmhouse feel and personality has translated into its new menus. Creating as its name suggests, a blend of country-style flavors& hospitality with a serious attention to detail and a sharp focus on wine. Experience Chef Jordan Mackey's High Country Cuisine just steps from the lobby.
Choose between River Front Rooms, which overlook the lazy Napa River, or Village Side Rooms. All rooms at the River Terrace Inn include high-speed Internet access, pillow-top mattresses and goose-down bedding.
Day 2
The Napa Valley Wine Train Station is less than a 5 minute walk from the River Terrace Inn. Begin to relax with a taste of wine at the Wine Train's wine tasting seminar. Board the elegantly refurbished 1915-1917 Pullman Cars and be treated to a meal, prepared fresh on board the train. Watch the vineyards of the Napa Valley slowly roll by, and savor a meal that is one of the best in the Napa Valley.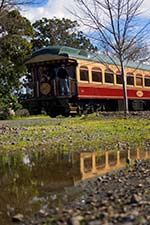 Ask your server when the best time to explore the train would be, then visit the kitchen car to see the chefs in action, the wine tasting bar where the Wine Train's Wine Educator can help you find a favorite new wine, or the observation deck to enjoy an unobstructed view of the valley.
The train returns to the Wine Train Station at 2:30 PM, and the rest of your afternoon is free. Explore the Oxbow Pubilc Market, or stroll through Downtown Napa and visit some of the dozens of wine tasting bars and local shops. Dinner is not included in this package, which gives you the freedom to choose one of Napa's remarkable restaurants. The concierges at the Wine Train and River Terrace Inn will be happy to share local's recommendations.
Day 3
Check out of the River Terrace Inn, and leave your luggage with the front desk staff. A Beau Tours Luxury Limousine, Limo Van, or Limo Bus will arrive between 10:00-10:30am to pick up you and other guests who will join you on Beau Wine Tour's daily winery tour. Each tour starts with complimentary sparkling wine served on-board one of Beau's luxurious vehicles, as you meet fellow wine enthusiasts and wine curious guests. Your friendly and knowledgeable tour guide will take you to four exceptional boutique wineries known for great tasting wine and warm hospitality.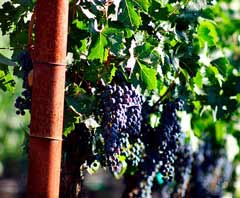 Enjoy a full day of wine tasting and making new friends as you tour one of the world's most famous wine regions in a Luxury Limousine, Limo Van, or Limo Bus! During this fun and informative tour, you will learn about the local history and geography that makes Napa Valley such a popular destination for wine lovers and foodies all over the world.
Each tour includes a catered gourmet picnic lunch from the famous Girl & the Fig Restaurant, served at one of the many hidden-gem locations in the valley (usually among vineyard views, garden terraces, or wine cellars depending on weather). Delicious and hearty lunches are presented "family" or "buffet" style allowing everyone to pick and choose from a variety of sandwiches, side salads, fruit, and artisan cheeses.
3:30 - 4:30 PM Drop off at your hotel, and bid Farewell to Napa
Tour Includes: Lunch in the Gourmet Cars aboard the Napa Valley Wine Train, one night in the River Terrace Inn, transportation to four wineries with Beau Wine Tours and a catered picnic lunch.
Not Included: Wine and drinks aboard the Wine Train, gratuity, dinner, price of wine tasting at wineries, transportation to and from Napa.