Reserve Now
Or call: 800.427.4124

Price Per Person
$179 - $209
Limited seating will be available in the Vista Dome for guests choosing the Domaine Chandon Winery Trip. Please call for reservations. 1.800.427.4124
Collectible Tour Pin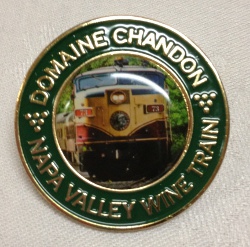 Winery Home Pages
Domaine Chandon Winery Tour
Enjoy a three course gourmet lunch in an elegant dining car as you journey northbound through the Napa Valley. Freshly created desserts are served while traveling southbound in our lavishly restored 1915 Pullman Lounge car. You will then transfer to a private shuttle which will transport you to Domaine Chandon. After enjoying a one hour tour and tasting directed by a Domaine Chandon host, guests board a luxury motorcoach to return to the Napa Valley Wine Train Station.
Specializing in Pinot Noir, Chardonnay, and Pinot Meunier, the traditional varietals of French Champagne, Domaine Chandon are experts in sparkling wines. Enjoy tasting these fine sparkling wines on a private tour, learning about Chandon's history and sustainable farming practices today.
This tour is offered Fridays, Saturdays and Sundays only.
All of our winery tours are "Seated with Others" style events. Wine on board the Train is not included.
All of our winery tours require moderate stair climbing and standing for extended periods. We encourage guests who may have difficulty performing these two activities to consider our regular Lunch Packages.
Domaine Chandon is a 21 and over winery. At this time, we are unable to accomodate guests under the age of 21 on the Wine Train's Domaine Chandon tour.
Limited seating will be available in the Vista Dome for guests choosing the Domaine Chandon Winery Trip. This package will be $209. Please call for reservations. 1.800.427.4124
| Time | Activity | Details |
| --- | --- | --- |
| 10:30 AM | Check In | |
| 10:50 AM | Board the Train | You will begin in our Petite Gourmet Car, and our meal service will begin as soon as you arrive. Expect to begin eating at around 11:30 AM. |
| 11:30 AM | Train Departs | |
| 12:45 PM | Transfer to the Lounge | Around this time you should finish the main part of your meal. Your server will let you know when your seat in the lounge car is ready. |
| 1:30 PM | Transfer to the Shuttle | After your dessert, you will transfer to a motorcoach which will transport you to Domaine Chandon Winery. |
| 2:00 PM | Begin Domaine Chandon Tour | A representative from Domaine Chandon will meet you, lead you through parts of the Winery, explain the sparkling wine manufacturing process, and lead a private tasting of Domaine Chandon's sparkling wines. |
| 2:45 PM | Shopping and Relaxing | You will have some time to shop and relax on Domaine Chandon's beautiful grounds. |
| 3:30 PM | Board Motorcoach for Napa | Spend some time in Domaine Chandon's gift shop on the way out, then board the motorcoach. |
| 4:00 PM | Arrive back in Napa | |